SuperBeets ® Heart Chews
Yummy Heart Health Support On The Go
SuperBeets Heart Chews puts two of nature's most heart-friendly foods – grape seed extract and beets uniquely together. Now you can get the benefits of grape seed extract plus the added boost of non-GMO beets in a convenient, fun way with a BURST of great flavor! Just two pomegranate berry flavored chews per day will help:
Promote normal blood pressure as part of a healthy lifestyle
Provide circulatory support
Promote improved heart-healthy energy
Support heart health
Provide antioxidant support to help protect against oxidative stress & damage
Now you can feel the difference of a daily chew with a novel, clinically-researched grape seed extract for added heart health support.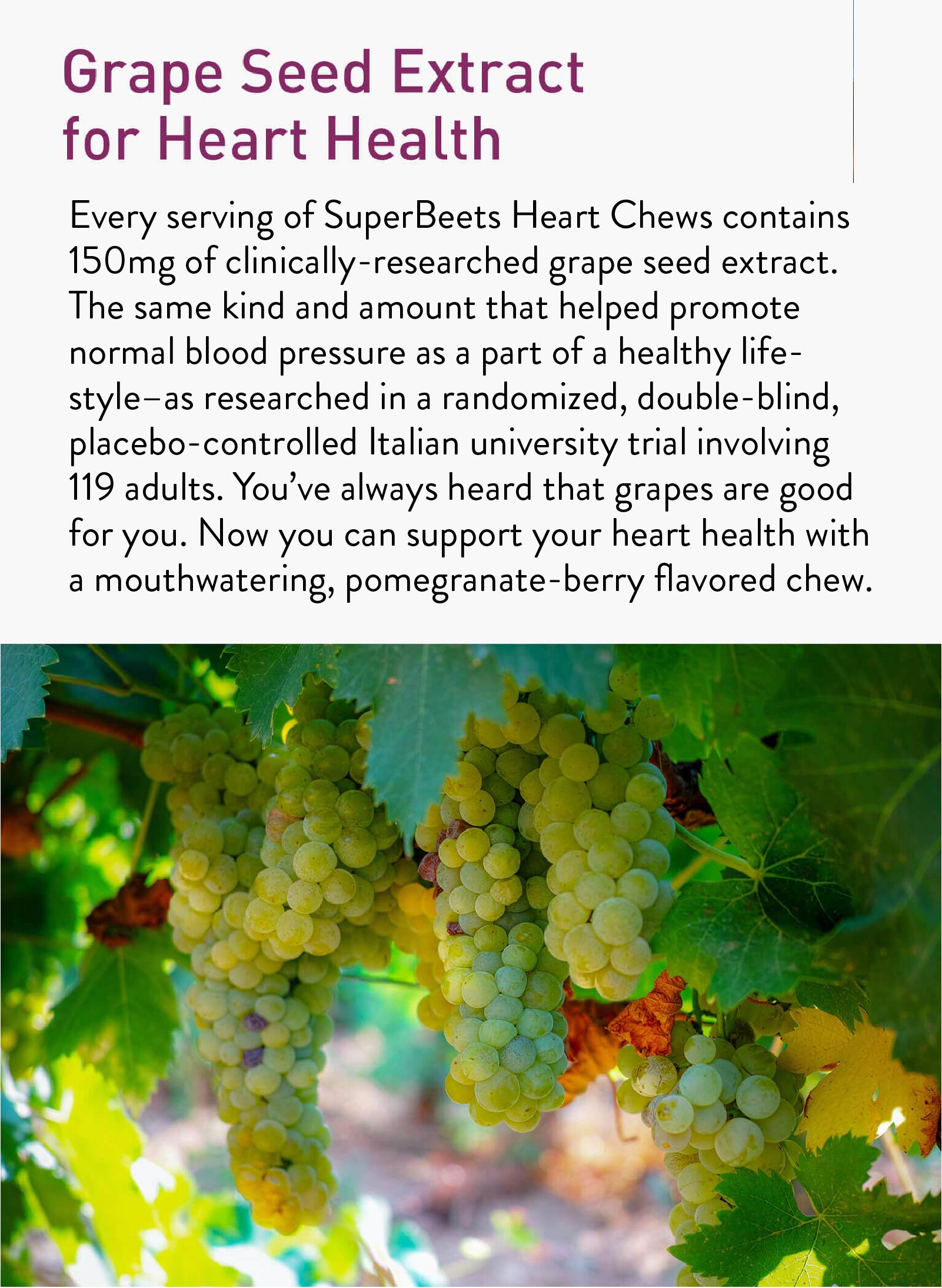 Key Benefits
SuperBeets just got a chewy new heart wellness companion
Our SuperBeets powders have given hundreds of thousands of people more energy and heart health support over the last 5 years. But one thing we've heard repeatedly from customers is: "I wish it were portable. I want to take SuperBeets with me. I want to share it!" So we challenged ourselves to create a delicious chew you could bring anywhere. And we didn't just want to put regular SuperBeets into a chew. We wanted to take it to the next level.
After an exhaustive search of clinically-researched cardio superfoods, we selected a novel form of grape seed extract that helped promote normal blood pressure as a part of a healthy lifestyle. This extract is made from select grape seeds used for white wine production in France. Rich in proanthocyanidins (potent antioxidants), these are the grape heavyweights, not the pale impostors wilting away at the grocery store.
So if you're one of the many who asked for a portable heart health boost…
We listened.
And SuperBeets Heart Chews is the answer.
Each serving of SuperBeets Heart Chews gets that very same grape seed extract boosted with 500mg of our premium non-GMO beet powder.
Creating a heart-healthy powerhouse that goes to work to help promote normal blood pressure as part of a healthy lifestyle and heart-healthy energy.
Because while these chews are fun and portable, they pack the full clinical dose of grape seed extract that produced results in the gold-standard study we mentioned. Which means you won't sacrifice effectiveness for convenience!
You're going to love the way SuperBeets Heart Chews taste. You're going to love the way they make you feel. And we think you're going to love how easy it is to fit them into your life. Plus, they are a great, convenient addition to your daily regimen of SuperBeets Black Cherry or Original.
Nutrition & Ingredients
Finally – a nutritional boost that's as fun and adaptable as you!
Lots of supplement companies just bottle whatever version of the active ingredient(s) they can buy in bulk for cheap. And they don't admit it. Customers spend millions of dollars per day on supplements that have almost nothing in common with the ingredients getting results for human beings in clinical studies.
We go the extra mile when it comes to ingredient quality.
Grape seed extract earned its place in SuperBeets Heart Chews because of its clinically-researched ability to help promote normal blood pressure as a part of a healthy lifestyle. (Plus, grapes are a fixture of the Mediterranean Diet, rated by U.S. News & World Report as "Best For Heart Health.") Now, each time you eat one of these tasty on-the-go chews, you're getting heart-healthy polyphenols from the best French grapes.
In homage to our SuperBeets powders, SuperBeets Heart Chews get a boost in the form of 500mg of our non-GMO beet powder. Beets, alongside grape seed extract, are another staple of the Mediterranean Diet. Together with grape seed extract, it's a unique heart-healthy tag team. This is next-level to help promote normal blood pressure as a part of a healthy lifestyle and improved heart-healthy energy.
Quality Verified Grape Seed Extract
Grapes – A Heart Health Hero
Grapes and specifically grape seeds contain some of the highest concentrations of polyphenols of any fruit. France is widely considered to be one of the best wine producing regions in the world due to its variety of highest-quality grape varieties. The Loire Valley wine region in France is known for its historic vineyards & wine making and is the ideal location where we source our grapes.
Over the years, scientists have found a way to isolate the polyphenols in grape seeds – which creates grape seed extract. Grape Seed Extract (or GSE, for short) has been the focus of much human research over the years due to the positive impacts its high concentration of antioxidants can have on cardiovascular health and overall wellness.
As you may know, antioxidants are substances that help neutralize free radicals – which are potentially harmful compounds in your body that can damage your DNA and damage our cells. The concentration of antioxidants in grape seed extract act as valuable free radical scavengers and support against oxidative stress & damage in the body.
Only the Highest-Quality Grapes Meet Our Standards
The Loire Valley region in France is one of the world's most well-known areas of wine production and includes several French regions situated along the river. Famous for its world-class wine production, the Loire Valley is referred to as the "Cradle of the French" and the "Garden of France" due to the abundance of rolling vineyards and fruit orchards. This world-renowned, pristine region is the home to where we source our novel, clinically-researched Grape Seed Extract called Enovita®
From the Chardonnay grape varietal used, to the harvesting methods, and the careful extraction technique, the expertise that goes into making Enovita® Grape Seed Extract makes it superior to many other grape seed extracts available today.
Our superior Grape Seed Extract features the following benefits:
Clinically Researched – Our Grape Seed Extract is backed by a human clinical-trial involving 119 health subjects that promoted normal blood pressure as part of a healthy lifestyle amongst the subject group.
Efficacy – Enovita® Grape Seed Extract is standardized to 95% proanthocyanidins rich in oligomeric proanthcyanidins (OPCs) the most beneficial & absorbable polyphenols founds in grape seed extract
Traceable & Sustainable – Made exclusively with Chardonnay grape seeds natively grown in France's world-renowned Loire Valley region. The unfermented grape seeds are used for our novel grape seed extract.
Rigorous Quality Testing – Every batch is rigorously tested for heavy metals, pesticides and microbiological contaminants to ensure purity and safety – this is not always the case with cheap, inferior sources of grape seed extract.
No Harsh Extraction Solvents Used– Many extract-based ingredients commonly harsh synthetic solvents to help generate a better yield when extracting beneficial compounds from plants. The process used to extract our Grape Seed Extract is gentle and uses only water, to help ensure the beneficial compounds stay intact and present in the final product.
Common Problems with Grape Ingredients
Not all grapes are the same or meet our highest quality standards. Additionally, due to the differences in quality of grapes, you cannot expect the same benefits. There are many reasons why grapes can vary in quality, some of which include:
Bioavailability – Oligomeric Proanthocyanidins (OPCs) are naturally occurring polyphenols in grape seed extract (GSE) that are responsible for many it's benefits due to its bioavailability in the body. Some commercially available grape seed extract ingredients lack the necessary OPC's.
Polyphenol content – Not all formulas are standardized to contain a specified amount of polyphenol that provides the primary benefits.
Processing methods – Harsh processing methods can damage delicate, active compounds
The bottom line is most grape ingredients and specifically grape seed extracts are not tested or clinically-studied for their effectiveness. If they are not tested or researched, how do you know they provide any of the desired benefits?
Verified Grape Seed Extract
HumanN has always been dedicated to providing you with highest-quality, clinically-researched products & ingredients. This is why we are guaranteeing you are receiving clean & pure GSE with our Grape Seed Extract Verified seal. Our clinically-researched GSE has gone through rigorous quality testing and verification to ensure you are receiving the most pure and highest-quality grape seed extract natively grown & harvested in the world-renowned Loire Valley region in France.
How to Use
Two soft chews a day
Take two soft chews, one after the other, anytime of the day. Chew gently before swallowing.
That's it!
Each package comes with 30 servings (60 chews) to last you a full month.
You'll love the pomegranate taste
If you're thinking "health-wise this sounds great but I'm not sure how beets with grape tastes", think again. SuperBeets Heart Chews have a tart, fruity, pomegranate berry flavor and are completely natural (no artificial sweeteners of any kind). You'll be hooked on from the first bite.
Frequently Asked Questions
Is this product GMO free?
Yes! SuperBeets Heart Chews are guaranteed non-GMO. They're also gluten-free, vegan-friendly and free of preservatives, artificial colors, sweeteners, and contain no palm oil.
When should I consume SuperBeets Heart Chews?
SuperBeets Heart Chews can be consumed at any time of day, but we recommend taking a full serving of two chews in the morning to kick-start your day with this heart-healthy powerhouse.
How many servings are in one package?
One package of SuperBeets Heart Chews contains 30 servings – a full month's supply. Each serving is two chews. 
Do SuperBeets Heart Chews contain palm oil?
No! Many nutritional chews on the market contain palm oil. SuperBeets Heart Chews contain no palm oil.
Is it safe to consume more than the recommended serving size?
You can exceed the recommended dosage, but it is not recommended to exceed more than one serving per day.
What is the polyphenol content of the grape seed extract?
SuperBeets Heart Chews feature the clinically-studied ENOVITA® grape seed extract. ENOVITA® is standardized to provide ≥ 95% of proanthodyanidins (condensed tannins) by spectrophotometry, and between 5.0% and 15% of catechin and epicatechin by HPLC.
For questions, please call 855-636-4040
90 Day Satisfaction Guarantee
HumanN® offers a 90-day money-back guarantee. We want you to be fully satisfied. If you are not satisfied, you may return the item within 90 days from the order date for a full refund of the purchase price, minus the shipping and handling charge. Please note that free shipping offer applies to Continental U.S. only.