Endurance Greens
Formulated for elite athletes. Essential for everyday health.
Endurance Greens is designed to help support every part of your day with zero compromises. It is an organic, plant-based blend of powerful ingredients that fits the demands of any lifestyle. Featuring the finest, clinically-studied ashwagandha, 13 other organic superfoods, plus probiotics, Endurance Greens helps:
Boost stamina & improve sports performance
Promote mental focus and alertness
Maintain balanced energy levels for endurance
Support digestive health
Support immune health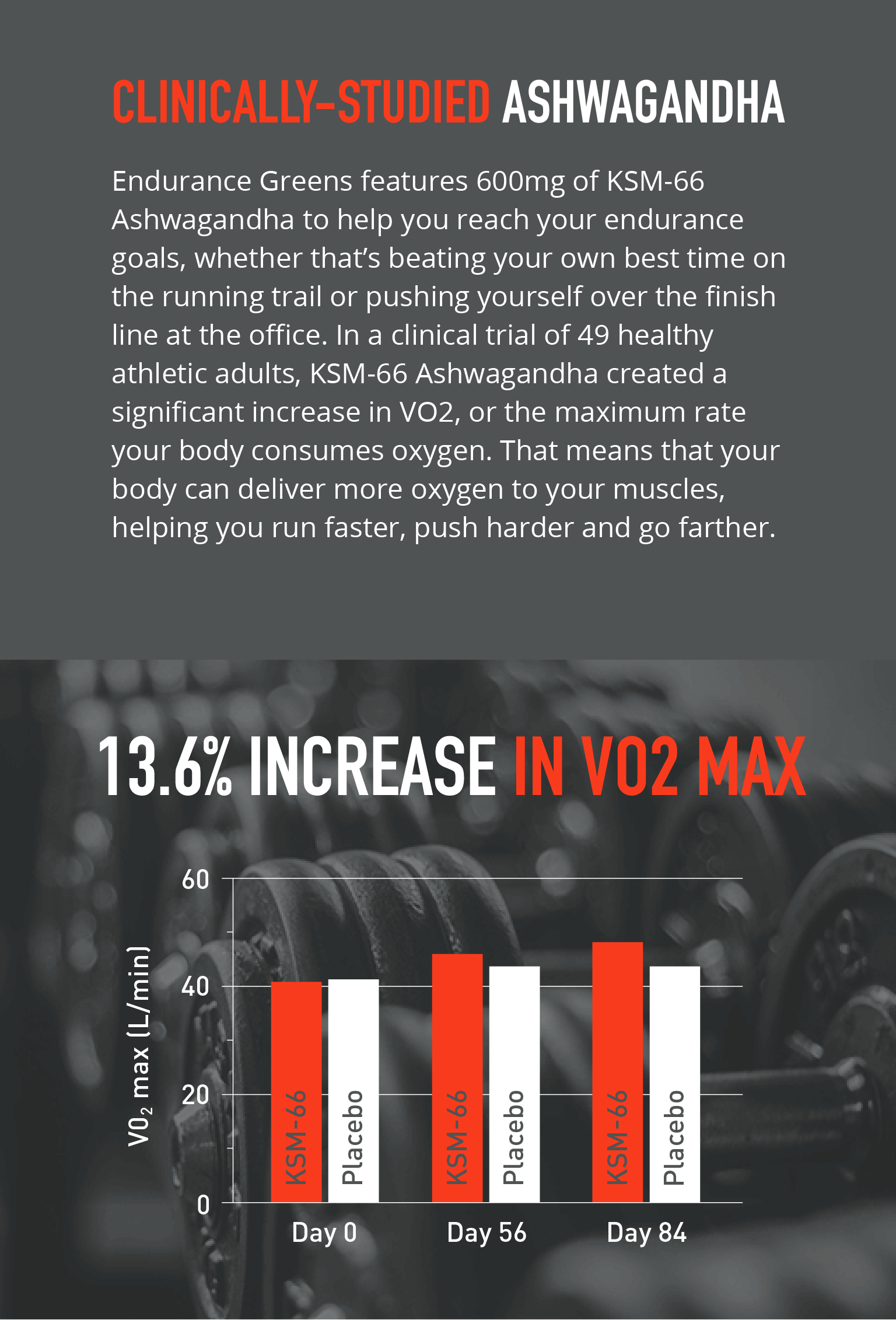 Key Benefits
Help improve your personal best with optimized endurance nutrition
You don't have to be a competitive athlete to have minutes – or even seconds – matter.
What if you could do one more lap around the track or make it through another chaturanga in yoga class? Would you build up speed for a 5K or finally have the strength to push up into handstand?
What if you lasted a little longer at work before your eyes glazed over in front of your computer? Would you impress the boss? Maybe even get the promotion?
Life is demanding, and chances are sometimes you struggle with finding the endurance to meet all your responsibilities. We make Endurance Greens for people just like you.
Supports alkalinity or an alkalized diet
Supports digestive health
Supports immune health
Helps promote a healthy response to stress
Helps promote mental focus and alertness
Helps boost stamina
Helps maintain balanced energy levels for physical performance and endurance
Helps improve sports performance
Informed-Sport Certified
Guaranteed to be free of banned substances
Informed-Sport is a global quality assurance program for sports nutrition products. Administered by the LGC Group, one of the world's leading doping control organizations, Informed-Sport certification demonstrates the highest level of commitment to quality assurance available in the industry today. Under the Informed-Sport program, every registered product lot is tested for prohibited substances and guaranteed to be free of more than 220+ prohibited substances recognized globally across North America, Europe, South Africa, Australia, New Zealand, and Japan.
Certified USDA Organic
We keep out the stuff you don't want in
Certain foods are impacted more than others by pesticides used in conventional farming. You may have heard of the "Dirty Dozen" list – 12 foods that pose the greatest risk of toxic chemical exposure. You don't need to worry about any of them getting into Endurance Greens. There are no compromises in our certified USDA Organic formula. We never use artificial flavors, colors, or sweeteners, plus it's non-GMO, gluten-free, soy-free, dairy-free, and vegan, paleo and keto friendly, too.
Nutrition & Ingredients
Inspired by Nature & Improved by Science:
Clinically-studied nutrition and 14 organic ingredients in each scoop
Premium organic ingredients are the foundation to everyday health and athletic performance. Endurance Greens was formulated to address the needs of your performance goals while also supporting everyday foundational nutrition.
This isn't another "kitchen sink" greens product with 60-70 underdosed ingredients. Everything in Endurance Greens serves a purpose directly related to training with your performance & health in mind.
A medicinal root used for centuries in Ayurvedic medicine, clinical studies show it helps promote mental focus and alertness, and a healthy response to stress. Ashwagandha also helps boost stamina, maintain balanced energy levels and improve sports performance. KSM-66® is one of the most extensively researched form of the plant, and the type used in our formula.

When it comes to alkalizing, not all greens are created equal. We chose 5 of the most beneficial greens to help keep your PH levels balanced. With Certified USDA Organic wheatgrass, broccoli, kale, spinach and celery, Endurance Greens helps support alkalinity and an alkalized diet.
Natural, plant-based nutrition is the cornerstone of our company and our products. Endurance Greens features 6 real certified USDA organic fruits: apple, blueberry, coconut water, pineapple, pomegranate juice, and goji berry extract.
Our digestive tract contains roughly 400 different types of bacteria, and keeping the delicate balance between them is a must for a healthy digestive system. Our formula features organic inulin, a fiber and nourishing prebiotic, and the clinically-studied probiotic LactoSpore® to help digestion and support immune health.
Tropical Fruit Flavor
There's Finally A Delicious, Breezy Way To Get Your Greens
Getting a green drink to taste good is no easy task, but we were up to the challenge. With notes of coconut, apple, and pomegranate, our Tropic Fruit flavor is so refreshing and sweet, you'll actually look forward to drinking your greens. Just add one certified USDA organic scoop to 8 ounces of water.
How to use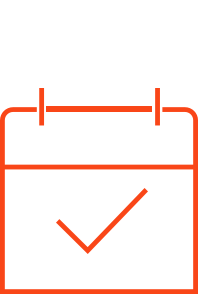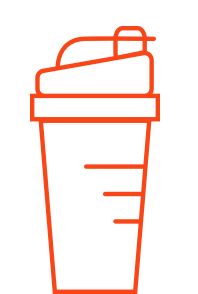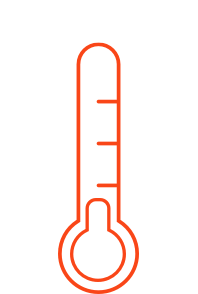 Frequently Asked Questions
When is the best time to take Endurance Greens?
Endurance Greens is a highly versatile product and can be used any time during the day. A serving can be used in the morning to help start your day, as part of smoothie recipe, or around your training & activity.
How does Endurance Greens differ from HeartGreens?
While both are comprised of certified organic superfoods to support an alkaline diet & provide daily foundational nutrition, Endurance Greens features clinically-studied KSM-66® Ashwagandha plus shelf stable probiotics. KSM-66® Ashwagandha helps boost endurance, improve athletic performance, and promote mental focus & alertness. LactoSpore® is a clinically-studied Bacillus coagulans probiotic strain that support both immune and digestive health as the physical stresses on our body from athletic performance can compromise our immune system.
Can I use Endurance Greens with BeetElite®?
Yes. Endurance Greens can be used in the morning or any other time of day to provide daily foundational nutrition support and help boost endurance and improve athletic performance. BeetElite® is designed to be used 30 minutes prior to your workout or activity to help stimulate Nitric Oxide, extend exercise endurance, and improve energy & stamina.
How much Ashwagandha is there per serving?
There is 600mg of KSM-66® Ashwagandha, the same amount used in clinical studies
WARNING: California Residents Click Here
HeartGreens: PROP65 WARNING: Consuming this product can expose you to chemicals including lead and cadmium which are known to the State of California to cause cancer and birth defects or other reproductive harm. For more information go to www.P65Warnings.ca.gov/food
Is Endurance Greens suitable for people with certain allergens?
Endurance Greens is gluten, soy, and dairy free
Is Endurance Greens suitable for vegans or other special diets?
Endurance Greens is suitable for vegans and vegetarians as well as various types of special diets. It contains no dairy, no eggs, and no other animal products.
How much sugar is in Endurance Greens?
There is only 1g of naturally-occurring sugar per serving from certified organic fruits included in the formula
What should I mix Endurance Greens with?
Endurance Greens has a delicious-tasting tropical fruit flavor, thus can be mixed with water or it can be added to a smoothie recipe of your choice.
Is Endurance Greens naturally flavored?
Yes. Endurance Greens has a natural tropical fruit flavor and does not contain any artificial flavors or sweeteners
For questions, please call 855-636-4040
90 Day Satisfaction Guarantee
HumanN® offers a 90-day money-back guarantee. We want you to be fully satisfied. If you are not satisfied, you may return the item within 90 days from the order date for a full refund of the purchase price, minus the shipping and handling charge. Please note that free shipping offer applies to Continental U.S. only.